NTmYhis site last updatedIan Gradon - World Paper Money Sales. Collectable and Antique Bank Notes.

BUYING AND SELLING RARE BANKNOTES
For all banknote listings please click on Price List above or the letters below.
A B C D E F G H I J K L M N O P Q R S T U V W Y Z
PAGES MAY NEED TO BE REFRESHED OCCASIONALLY IF YOU SEE AN OLD DATE AT TOP OF PAGE
(PLEASE ALLOW A FEW MOMENTS FOR THE PAGES & IMAGES TO LOAD AFTER YOU CLICK ON THE LETTERS ABOVE)
IAN GRADON
P.O. BOX 359
DURHAM
DH7 6WZ
UNITED KINGDOM
tel:0044 (0)191 3719700
mobile: 0044 (0)7929 602933
This banknote site was last updated on the 15th January 2023
The next upcoming venues I will be attending in the UK are:
THE NATIONAL MOTORCYCLE MUSEUM (near the NEC) BIRMINGHAM every second Sunday of the month--12th February, 12th March, 9th April, 14th May, 11th June 2023, etc
York Coin & Stamp Fair, York Racecourse, next venues Friday 20th & Saturday 21st January 2023 & Friday 21st & Saturday 22nd July 2023
Yorkshire Coin Fair, Cedar Court Hotel, Huddersfield, last Sunday of the month--29th January, 26th February etc until 26th November 2023
London Coin Show, Holiday Inn, Coram St., Bloomsbury, Saturday 4th February 2023
--I am upstairs on the left in the immediate foyer area.
IBNS World Paper Money Show, Ambassador Bloomsbury Hotel, 12 Upper Woburn Place Euston, London, WC1H 0HX--Friday 6th October & Saturday 7th October 2023
I also have lower price items, postal orders, cheques, banknote books and assorted ephemera which I bring along to the many UK fairs I attend.
I am always looking to purchase rare banknotes and complete collections.
I also buy old postcards showing paper money images & anything with North East of England interest.

TYNESIDE NUMISMATIC SOCIETY
(click on image for details)

PLEASE REFRESH PAGES REGULARLY IF YOU HAVE BOOKMARKED THIS SITE.
Click [HERE] to Email me.
Unlisted Burma Pick#4a 5 rupee 1908--RARE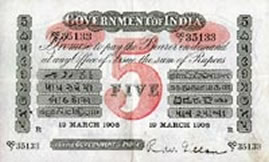 A B C D E F G H I J K L M N O P Q R S T U V W Y Z
IAN GRADON BANKNOTES IAN GRADON PAPER MONEY IAN GRADON RARE MONEY IAN GRADON RARE NOTES IAN GRADON OLD MONEY IAN GRADON BANK NOTES IAN GRADON